Good news everyone!
Wildwood is now officially version 2.2! (Download on the App Store) It's not a huge update on the code side — but we do have a very big change visually… a new icon!
A big thank you to one of my favorite artists Erb for tackling this. Erb is always incredible to work with and has that amazing ability to see inside my head and capture my vision for projects. Erb has also done work for my two (Lush Sunlight and Explore Tiny Worlds) music playlists on Spotify and Apple Music.
Here's a before and after: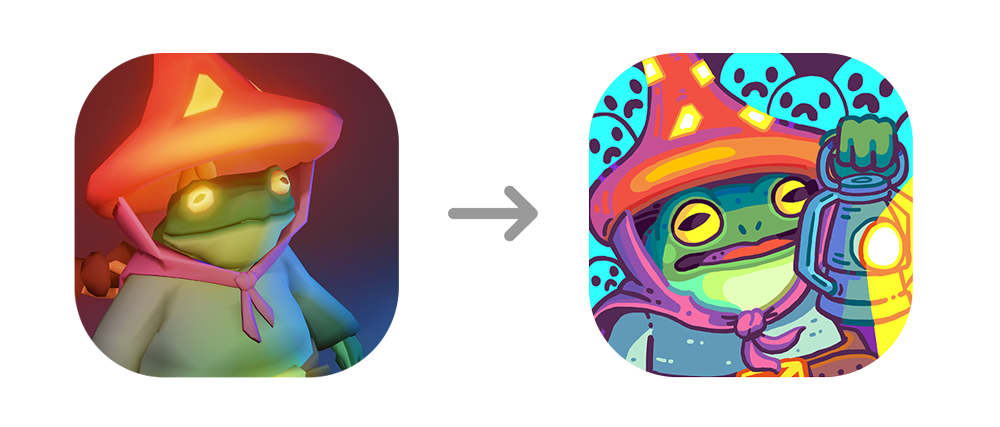 I really wanted a hand drawn icon to reflect some of the new toon shaders I'm using in the game. I also felt like a drawing could help bring the character to life and make it more visually engaging. I didn't give Erb too much direction, other than the original icon and some screenshots from the game.
I'm absolutely thrilled with the result. I love how the ghosts are incorporated in the background, and how the lantern (you know, the actual main mechanic in the game!) is included. We went back and forth a little bit to get just the right level of detail in the icon, while maximizing readability at a small size. Below is the progression of the idea. I think what we landed is on right there in the Goldilocks zone – juuuuuust right.

I was also able to sneak in a few quick bug fixes and improvements. I'll probably talk more about this later on, but I had the opportunity to speak with some folks from Apple about Wildwood and they gave me some great feedback on the game that really helped solidify the next few year's worth of updates. The bigger items we discussed are still a ways out, but I was able to tackle a few low hanging fruit items they suggested. I also added in a very basic pause button suggested by a reviewer on the App Store. It's a little rough, but it works! Finally, I fixed a bug with Game Center score recording – there was a logic issue that wasn't currently affecting how scores were sent, but it was affecting the built-in daily ranking leaderboards view in Game Center. In a future release I'd like to surface some of that data up within the game world, so fixing that bug now will help with that later on.
As of this writing, we are at over 1,700 registered players on the leaderboards (over 4,000 total downloads) and I love that so many people have had the chance to play it. The game got picked up by a few websites and had a nice spike in downloads a few weeks ago. That was really fun! That also lead to an increase in the long-tail daily average daily downloads which is cool. For a brief moment, Wildwood was the #3 most popular Family game in Croatia!!
That about wraps this post. I've been really focused on other projects at the moment, and I'm excited to share more details on that hopefully soon 🙂