The big update for Halloween 2022 is here! I'll skip the formalities and get straight to the good stuff. Here's the major changes this year:
Brew potions!
Collect ecto drops
New ghost type
Enemy AI improvements
Deeper Game Center integration
Weekly leaderboards
Legendary player statue
Achievements (more coming soon)
Lots of tweaks and bug fixes
Sound good? Update your copy today, or go here to download it (iOS).
The Details
Now that the TL;DR is out of the way, let's get into the details a bit. This update bounced around in my head for a while, and originally centered around potions. Honestly, the potion system as it currently stands is a V1. Now imagine mixing the effects of multiple potions, buff/debuff balancing… that kind of thing. Really enhancing the gameplay via potions to fit your preferred play style. That's where I'd like to get it to one day. A big shoutout to MinionsArt for the potion pack – those assets were a huge help to get the new potion system rolling. If you aren't following already, you should!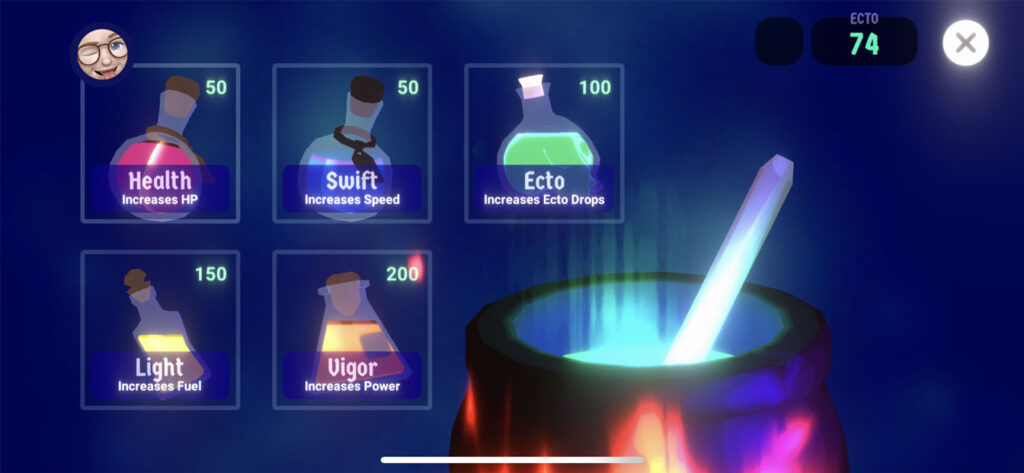 A cool thing happened this summer. I got to talk with some folks at Apple during WWDC and they gave me great feedback on the game and my ideas on where to take it. One item we discussed was strengthening the replay factor. Before V3.0, the main reason for replaying was to beat your own high score, or to drill down inside of some fairly obfuscated Game Center menus to see how you ranked against other players.
They were right – there wasn't a compelling reason to replay to game more than a few times. So another big change was completely redesigning to "scoreboard" inside the player's house to surface up more information from your Game Center rankings, as well as creating a new weekly leaderboard that allows a wider group of players the opportunity to rank highly for a while. I'm also considering giving an achievement for ranking 1st, 2nd or 3rd in the weekly leaderboards to further reward players. Some of the people playing this game are GOOD at it. Like… WAY better than I am haha.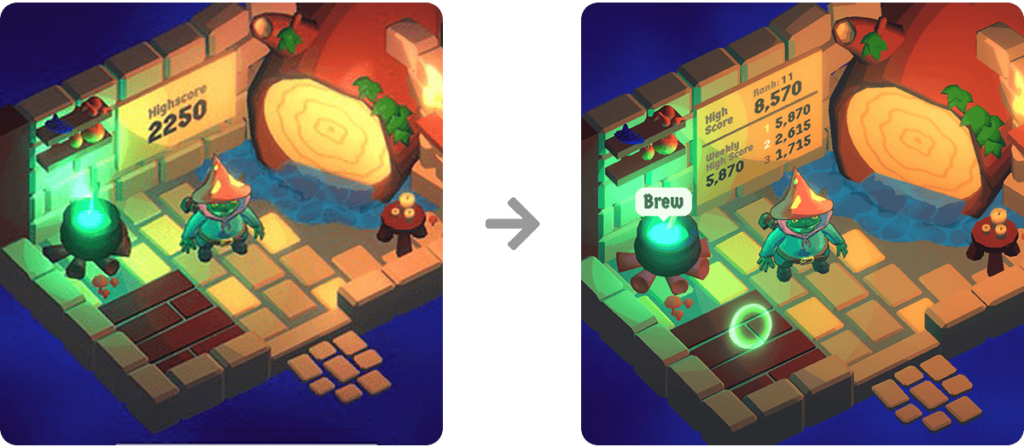 I'm mostly happy with this design, but it's a little too dense and could be improved. Ultimately I'm going to need some kind of UI window to display this information at a proper scale, but this works for now.
Redesigning the scoreboard also lead to some other improvements – your local high score on your scoreboard used to get cleared out if you deleted the app and reinstalled it. Your high score would still be in Game Center, but not visible in the house (kinda confusing). Now the entire scoreboard is driven by Game Center. This does require a Game Center account to be fully functional, however the old method is used as a fallback if the player opts to not use GC. They just get their local high score displayed at the top of the board instead.
Finally, the last thing I want to touch on is the new ghost type. James and I had been discussing the concept of "chaos elements" in games. Loosely defined, it's basically a mechanic that isn't predictable and affects gameplay directly. An example could be the cannons in Fall Guys that shoot out randomly sized/shaped physics objects that you have to avoid – it's unpredictable. I wanted to incorporate something like that into Wildwood, so the poison ghost was created! Essentially, all ghosts track the player and adjust their paths accordingly. The poison ghost lays a trail of poison behind them that inflicts damage on the player if they cross over it. The trail evaporates over time. This mechanic disrupts any routine paths the player may take in the level, and forces them to rethink where to travel, if they should engage with the ghosts, or if they should take the damage and continue forward. I love the sprinkling of chaos/emergence it adds.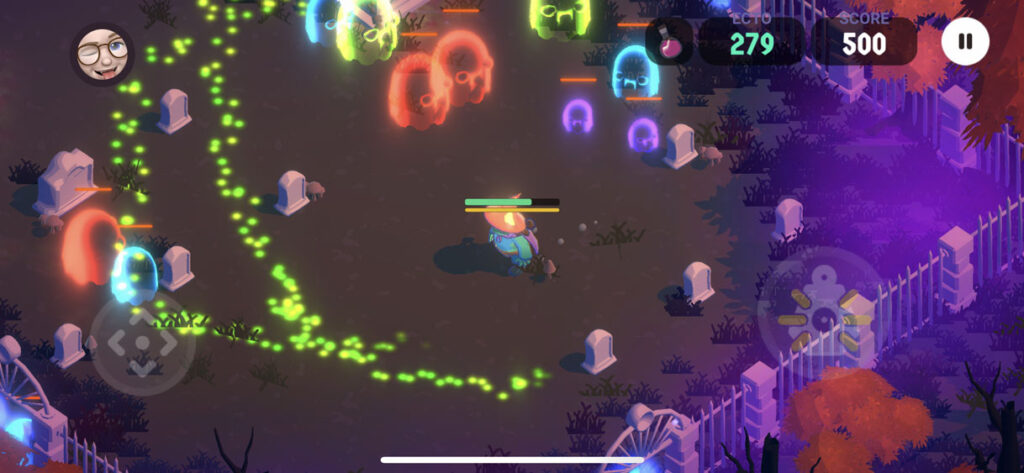 I hope everyone enjoys this new update and gives the game another go if they can. I'll be watching those leaderboards — good luck!!