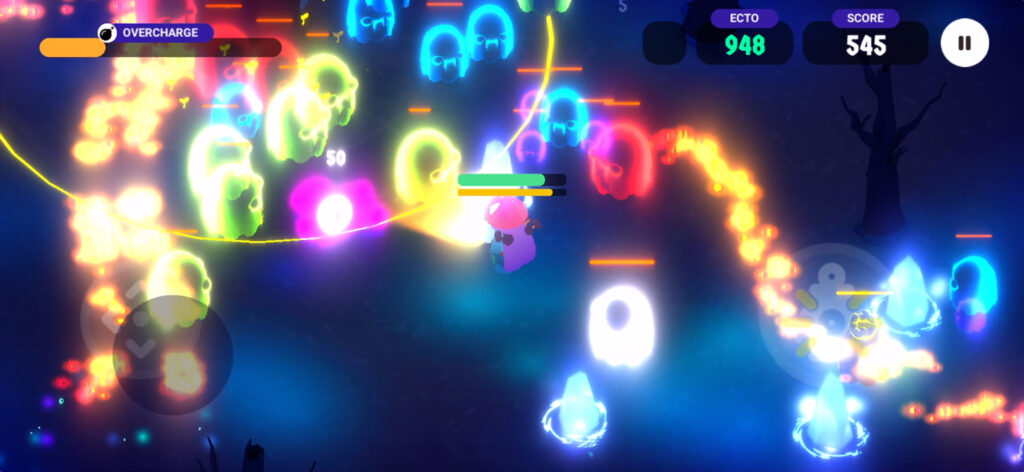 Shady freemium monetization strategies exist for a reason—they work. But I don't like them.
So I decided to experiment with a more traditional upsell path… essentially paid DLC. And since Wildwood gained significant visibility on the App Store last month (2M+ impressions) — it was a perfect storm to test my concept.
Did it work? Here's what happened.
Adding Monetization to Wildwood
Earlier this year, a kind stranger from the mobile app industry reached out on Reddit and offered advice in response to a YouTube video I posted. One idea they suggested was that instead of selling premium skins (which I was considering at the time), to provide an alternate gameplay mode that would add more value for enthusiasts.
That strategy seemed sensible and honest — so I decided to explore it.
I developed a hardcore, infinite version of the gameplay in Wildwood, and offered it as an in-app purchase (IAP) for $1.99, discounted down from $2.99 through October. This version added unique gameplay elements as well to help keep things fresh, and differentiate it from the main (free) campaign.
In retrospect however, this gameplay mode really just caters to about 1-5% of players — those who've completed the game and crave more. Designing the IAP this way significantly narrowed the potential customer base. And considering typical conversion rates in mobile gaming, only a fraction of this small group was likely to purchase.
Results

So, how'd it go? In October, Wildwood got featured on the App Store and received 2M+ impressions, which turned into ~60K page views, and resulted in ~2,300 downloads. From there, 10 people purchased the IAP, netting a cool $19.90.
About a 0.5% conversion rate. Very low.
Analytics and Comparing Against the Trend
Apple provides a "Benchmark" report in App Store Connect — and it's very revealing. It compares your app against other apps within your genre, and measures performance (Retention, Conversion Rate, Proceeds per Paying User), and ranks each of them across four percentiles (0-25th, 25th-50th, 50th-75th, 75th-100). The report is only available in 'per week' slices, so the following data is representative of Oct 9 – Oct 15 (the first full week of being featured).
Wildwood falls in the 0-25th percentile tier (the lowest tier) for Conversion Rate and Proceeds per Paying User:
Conversion Rate: 0.17% (Wildwood)
Proceeds per Paying User: $1.69 (Wildwood)
In contrast, the 75th-100th percentile tier (the highest tier) games average:
Conversion Rate: ~3.06%+
Proceeds per Paying User: ~$22.10+
This disparity highlights the effectiveness of freemium monetization, which often includes premium currency, gacha mechanics, and energy refills, pushing players towards purchases.
Despite a 25th-50th percentile rank tier for Retention (which I'm translating as: "people somewhat enjoy the game and replay it"), sales just did not come through. Either it wasn't compelling enough, or having the main game be completely free was enough to satisfy most players and that's all they needed. Or both!
The Twist
To better understand where I missed the mark, I asked for some feedback on the game.
Surprisingly, it seems that some players not only expect but prefer standardized freemium models. Alongside suggestions to watch ads or pay a fee to revive, responses included requests for gacha mechanics, despite the game not featuring multiple characters. To me, this suggested a normalization and maybe even a preference for mobile freemium strategies.
But that's just not my vision for the game.
I had hoped a straightforward approach could work: Like the game? Purchase more of it.
Yet, my preferences seem to be counterintuitive for mobile gaming. Platforms like Steam or Itch might cater towards a paid strategy better. If I ever ported my game to desktop, I think I could sell it for flat price around $3.
Final Thoughts
My aim in all of this was to cover Apple's developer fees ($100/year). I might make around $50 this year, if not less.
I love mobile as a platform. The ubiquity of devices out there, and the ever increasing performance is a really exciting thing to be a part of. And I think eventually our only device will be some kind of pocket computer — just plug and play any size screen and input device, and you're off.
But the reason I got into all this, was because I LOVE the feeling when someone else plays something I've created. It's incredible to know that I was able to give a complete stranger a few moments of joy (hopefully!). That's why I do this.
Ultimately, Wildwood will probably always be a hobbyist's experiment. I'm still planning on adding more to the game over the next couple years and continue to use it as a conduit for learning game design and programming. But I think it's also time to start dreaming about a new game.